Dear Friends,
First things first. This is the time for the cover reveal of my new novella, Love Comes Calling! This e-book releases March 20th, and I will be hosting a launch party. If you are interested in attending for the chance to win some prizes, there will be announcements via Facebook and Twitter. Not a friend or follower? We can fix that! Here's where to find me:
Facebook: www.facebook.com/deborah.piccurelli
Twitter: @DebPiccurelli
Now, just below is the cover for Love Comes Calling, along with the back cover copy. Let me know what you think!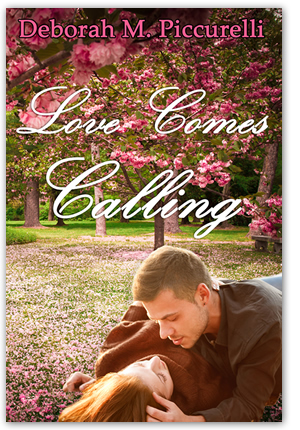 The day new Christian, Derek Spencer, shows up on Charlie Parkes's doorstep to make up for what he'd done, is the very day he falls in love with her. But Charlie's sister mistakes him for a home improvement contractor, and he decides to play along until he finds a way to tell her who he really is.
Charlie is attracted to Derek, but knows the attention he pays her is only flattery. How could such a great-looking guy fall for someone with a face like hers? Nevertheless, the two form a relationship that brings a joy to Charlie that's way beyond her wildest dreams.
But what will happen when Derek's true identity is revealed?
On to other business:
As I write this, there is still frozen snow on the ground. All of us here are wondering when we'll begin to see the light at the end of this wintery tunnel. We're hoping for a break within the week.
That said, snow and ice keeps us indoors, which gives us more time for reading. So, please take a look at my interview with author, Carole Brown where we discuss her newest book, With Music in Their Hearts. Of course, you'll also want to sign up for the giveaway.
The winner of last month's drawing for Legitimate Lies, is Roe Martinelli. Congratulations, Roe!
You might also want to check out the review I wrote for Jennifer Slattery's latest novel release, When Dawn Breaks. Love doing reviews!
Until next month . . .
Blessings,


Deborah M. Piccurelli
---
---